The EURUSD stabilized close to the 1.0590 zone, Fibonacci's 161.8%, where the sellers will likely place more pressures to take control of the price.
The price, since the 8th of December 2016, has been oscillating within a downside formation between the range of 1.0871 and 1.0590 respectively.
Probable Scenario
The latest formation and stabilization close to the 1.0590 level is a good indication that the sellers may take control over the pair in today's trading session.
In the event where the pair drops and the sellers take over, the price could decline to 1.0414 Fibonacci's 261.8%.
The Stochastic oscillator's main and signal lines indicate that the price has greater probabilities to decelerate at the 55 zone.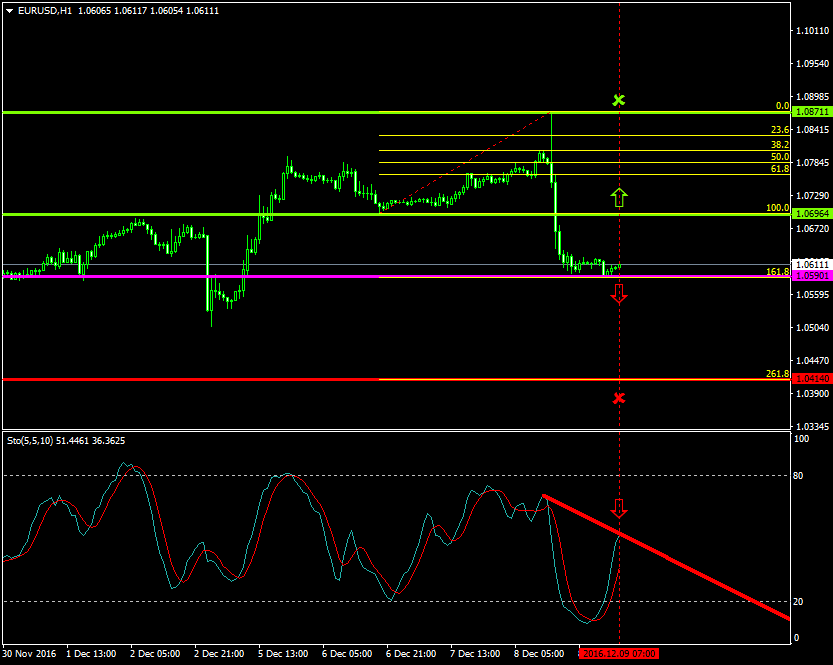 Alternative Scenario
Alternatively, in the scenario where the bulls are able to place greater pressures and the pair breaks above the 1.0696 area, the price could rise to 1.0871 Fibonacci's 0.0%.
Today's Major Announcements
Germany's Exports (MoM) (Oct), the Trade Balance s.a. (Oct), the Current Account n.s.a (Oct) and the Imports (MoM) (Oct) releases are expected to have a medium impact the euro
Synopsis
·         Probable trend (Bearish): 1.0590
·         Bearish take profit target: 1.0414
·         Stop loss target: 1.0696
·         Alternative trend (Bullish): 1.0696
·         Bullish take profit target: 1.0871